About Us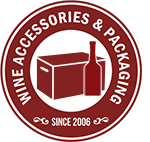 DongGuan Wine Accessories & Packaging Co., Ltd locates at Dongguan, China, a notable manufacturing center in Asia, specializes in all kinds of high standard packaging products mainly for wines and spirits industry. Our products includes wooden boxes, paper boxes and leather boxes, and various wine bags and pouches etc. Also we are making elegant and attractive wine racks as well. Our beautiful designed, and well-crafted boxes, bags and accessories are perfect to store your own wine in, or the perfect way to present a gift.
Established in 2006, DongGuan Wine Accessories & Packaging Co., Ltd has been providing professional packaging solutions for our customers all over the world for over 15 years. The key to our success is our passionate team who deliver service and efficiency, enabling us to meet customers most exacting packaging requirements. We have always stood by the quality of products and our objective has always been quality products, reasonable price and excellent service.
In this industry reputations are gained one order at a time. We are committed to bringing you the finest quality products and we will work with you to tailor your orders to your specific product needs. Welcome your enquiry and please email to michael@winepackaging.com.cn or phone call to +86-13631696896 for further discussion.